Yes, it just happened over frames, fork, spokes, pedals!
And, we knew right from the commencement of our idea of TRU that it is unequivocally accurate and it is more exhilarating because our passion for bicycles fuels our drive of simply forget the chaos and just pedal it out.
Having worked for over 15+ years in a well-known global organisation in bicycles and electric mobility, Ritesh, Co-Founder & CEO and Sunil, Co-Founder & COO decided to join hands and dive into entrepreneurship. Both of them bring varied but complementing experiences to the business. While Ritesh, being conversant with the market needs owing to his expansive travel experience in Europe and US, brings along product design & development, validation, and customer service experience, Sunil keeps the engine running with his expertise in setting up sourcing, supply chain, and manufacturing operations – especially for the E-Mobility sector. They both work and live in Ludhiana, India with their respective families.
To strive to create happiness on the go and make cycling a part of our lifestyle. We cheer for "perfect fit for all" bikes, that are true to your soul.
To create a bicycle world where health is at the forefront, and discover the true joy of riding ecologically sustainable and high-quality bikes empowering to foster happiness in the everyday family association.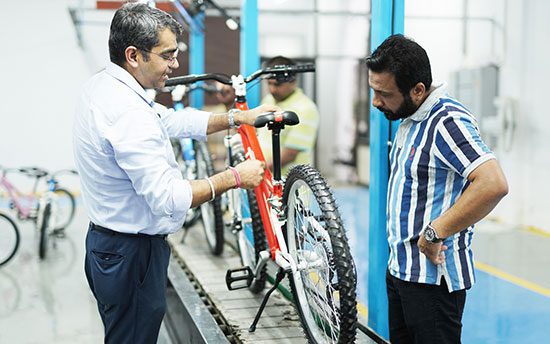 We're innovating the path to a new age in manufacturing. With technology and experience at the centre of our efforts, we facilitate access to high-quality E-Bikes, E-Mobility vehicles, and Premium Alloy Kids Bikes to customers across the world.
Tru E Bikes Manufacturing was set up in 2020, to provide a reliable and predictable supply of high-quality manufactured Kids Bicycles and E-Mobility products to our customers across the world. We strive to be your preferred manufacturing and sourcing partner from India.
We function with a global supplier network, with special expertise in India, Europe, Taiwan, and South-East Asia, and can handle a wide variety of manufacturing processes, starting from prototyping into production.
Presently we are working with 10+ customers across Europe and North America.
Think it. Want it. Ride it.